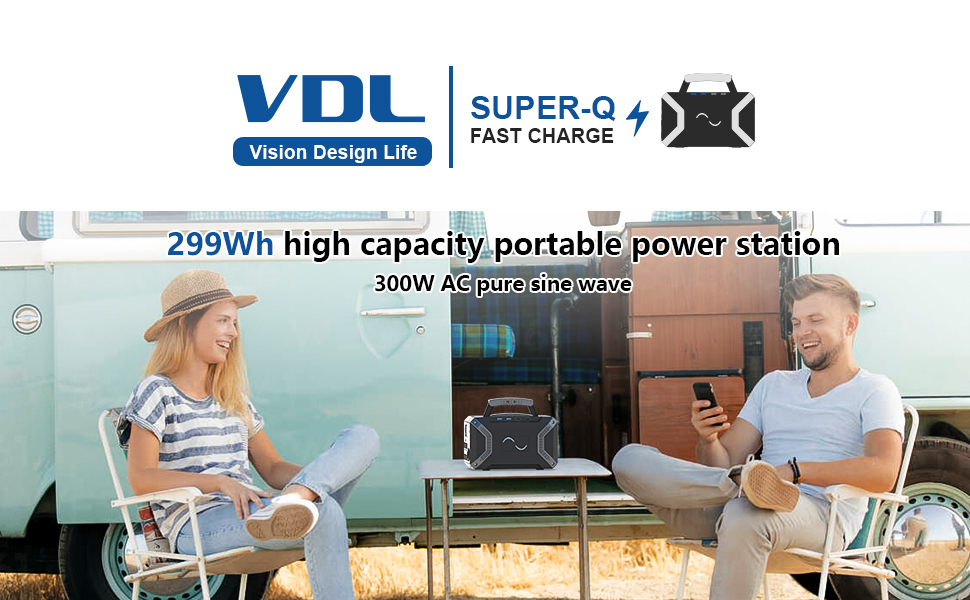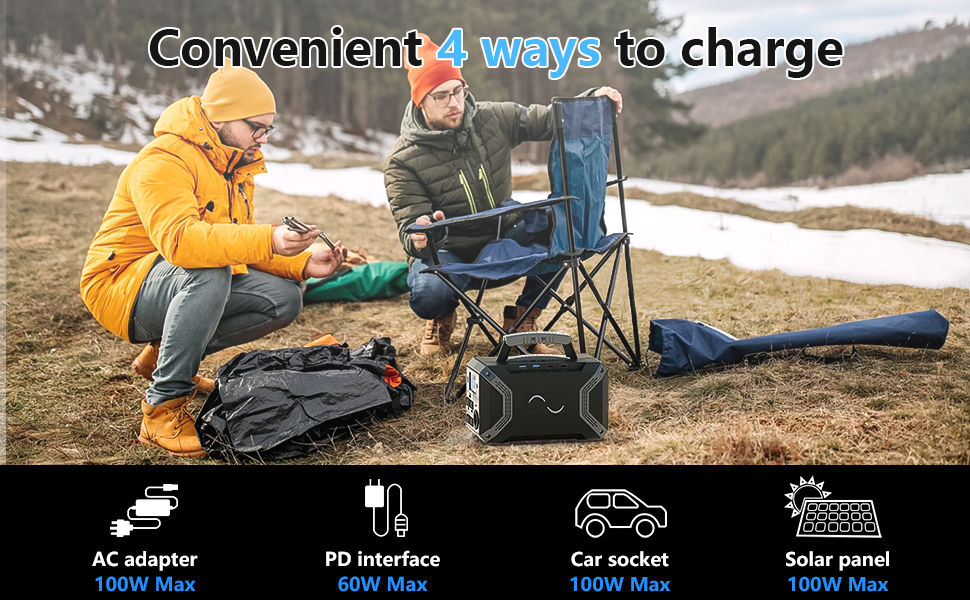 VDL PS0300 PORTABLE POWER STATION 300W/299WH,AC100W FAST CHARGING, 4 HOURS TO FULL
VDL PS0300 portable power station is a compact portable power station with concealable handle and cool
appearance, making it not only yo a charging station, but also a stylish technology product.
If you want to find a portable power station for your home/RV/camping/travel/fishing/disaster prevention/power
outage emergency, PS0300 power station is a good choice.
The adapter may have energy loss and heat during the charging process, so in order to reduce the heat of the
adapter, as well as to achieve maximum efficiency charging, we are equipped with an adapter of 135W.
AC Adapter - 100W Max, approx. 4 hours full.
Car Socket - 100W Max, approx. 8 hours full.
Solar Panel - 100W Max, approx. Depends on the intensity of sunlight.
PD Port - 60W Max, 8-9 hours full.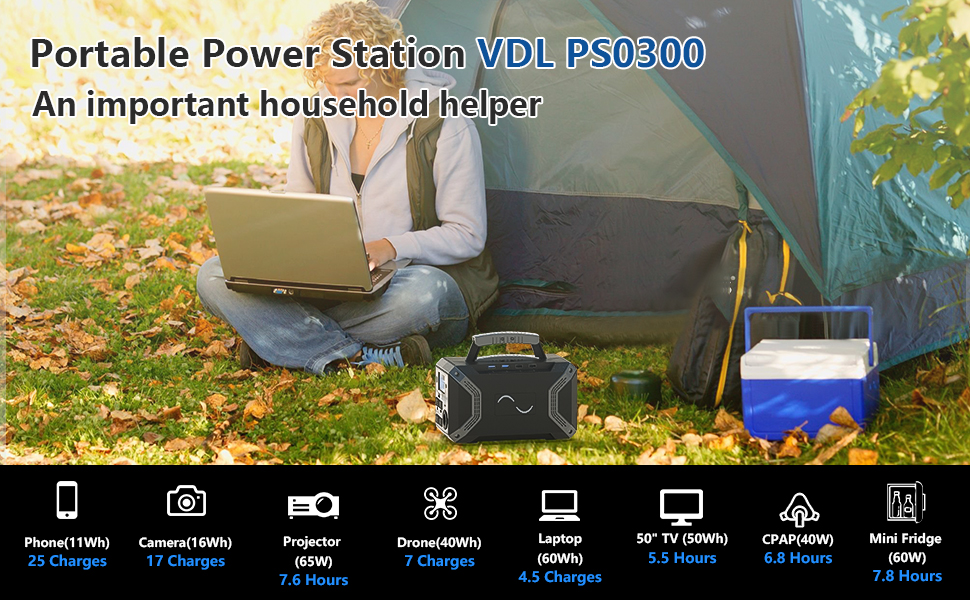 THE RELIABLE AC PURE SINE WAVE OUTPUT PROTECTS YOUR APPLIANCES FROM DAMAGE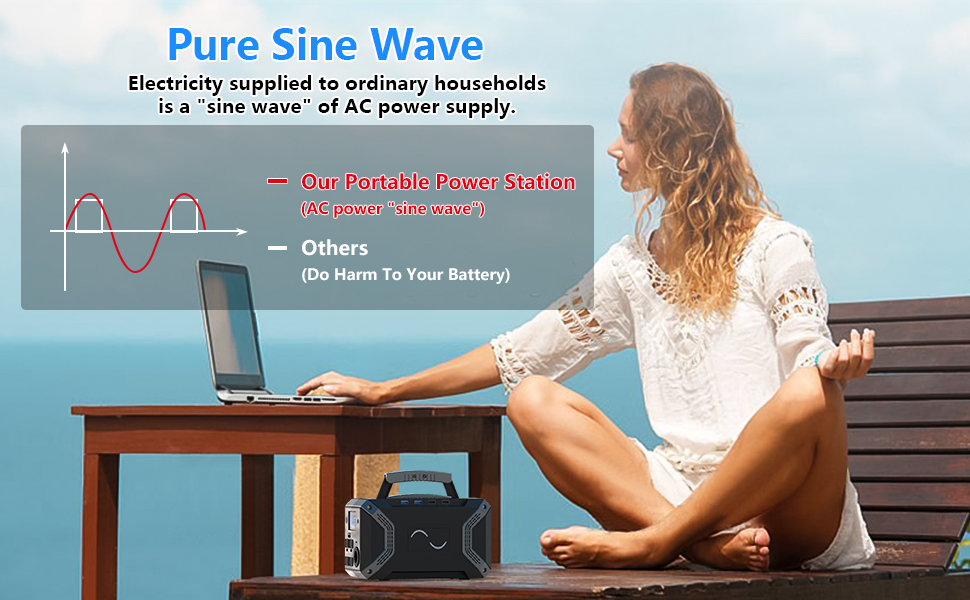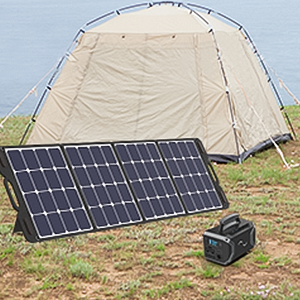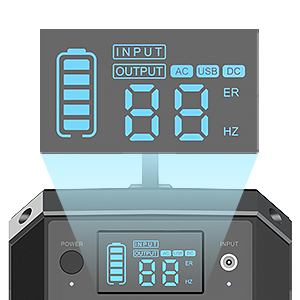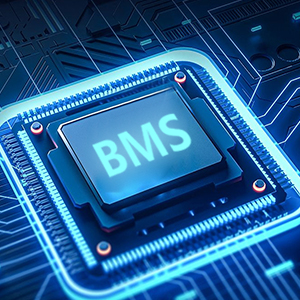 ENDLESS ENERGY DIRECTLY FROM LARGE LCD DISPLAY SAFE PROTECTION SYSTEM
THE SUN Keeps you informed of the battery usage. Protected by BMS. Trusted Mobile Power.
The VDL PS0300 power supply can Remaining power, input/output Temperature Protection/Over-discharge
be charged with solar panels. ports, frequency protection/Overload protection/Charging
DC 6530 input port. 10.8-28.5V, max. 100W The default AC output frequency is 60Hz. protection/Short circuit
When selecting the solar panel interface type, Please refer to the manual for 50/60HZ protection/Overcurrent protection/Over-
select either DC6530 or MC4 (The product is adjustment method. voltage protection/Power equalization.
equipped with MC4-DC6530 adapter cable),
the interface parameters need to be within the
above parameters.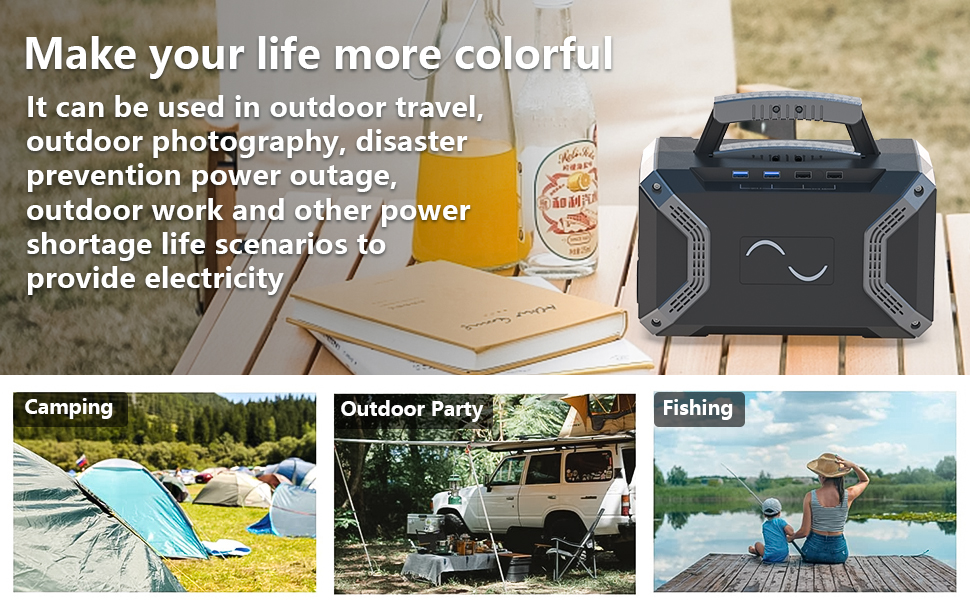 FAQ
Q1: Which devices can be powered by VDL PS0300?
A: Please note that the AC output port can only charge/power devices with a total power of less than 300 watts. For example: cell phones, laptops, TVs,
drones, game consoles, car refrigerators, string lights, electric fans, etc.
Q2: Can the VDL PS0300 portable power station be charged while using?
A: Yes, VDL PS0300 power supply supports pass-through charging.
Q3: How to know the working times for my device?Why does the duration of some devices deviate from the actual usage data?
A: Working time = 299Wh*0.85/the working power of the device. The duration of our devices is based on laboratory data, and the devices have their own
energy loss when in use, so the usage time of specific devices may vary.
Q4: How to properly charge and discharge and store?
A: Charge your new VDL PS0300 to 100% before use. best practice for VDL and lithium ion batteries in general is to avoid discharging below about 15%.
It is recommended that the VDL be used and recharged every 3 months or so to maximize battery life. If possible, it is best to store it between 45% - 55%.
If you need to store it at 100% just in case, that's fine. But do not store your VDL at 0%.
Note:
When the PS0300 Portable Power Station AC output is running at 7W power for more than 90 minutes, it will activate Economy Mode and automatically
shut down.
This power station is not TSA certified.
SPECIFICATIONS
| | |
| --- | --- |
| Capacity | 299Wh/14.4V |
| Battery | Lithium-ion Battery |
| AC Ouput | 110V, 300W (600W peak) |
| Quick Charge 3.0 Output | QC3.0 5V /3A, 9V /2A, 12V/ 1.5A (18W Max) |
| USB-C Port | Input/Output PD60W 5V/3A, 9V/ 3A,12V/ 3A, 15V/ 3A, 20V/ 3A (60W Max) |
| USB-A Output | 5V /2.4A |
| Car Output | 12V 10A Max. (120W Max) |
| Weight | 7.6lds/3.45kg |
| Dimensions | 9.6 x 6 x 6 inch (24.5x15.3x15.4cm) |
| Operating Temperature | 14-104°F (-10-40℃) |
| Recharging Temperature | 32-104°F (0~40°C) |
| DC 6530 Input | Max 100W |
Product information
Technical Details
| | |
| --- | --- |
| Manufacturer | Shenzhen Hanying New Energy Technology Co., Ltd. |
| Part Number | ‎PS0300B |
| Item Weight | 12 pounds |
| Package Dimensions | 13.3 x 11 x 9.6 inches |
| Power Source | Battery-powered, Solar powered |